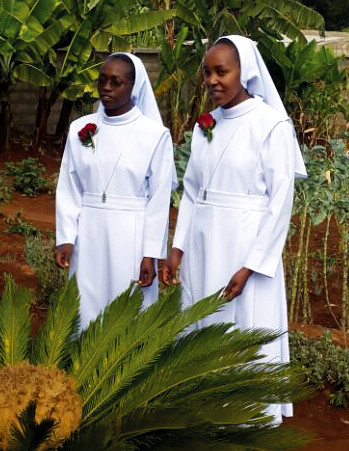 Any day can be special when you decide it to be. Any place can be special when you make it so. The smallest most ordinary moments can bring the biggest and extra ordinary rewards into your life.
A long journey begins with a single step. On 18th of March 2017, it was a great and joyous day in the family of PHJC KENYA PRO-REGION. The day when our two Sr. Mary Jane Njeri and Sr. Mary Josephine Mbeke made their first profession; their journey began four years ago when they realized their call and responded to our congregation.
The celebration was colorful, with melodious singing by the PHJC sisters, 5 priests for Eucharistic celebration, sisters from other congregations, invited guests and family of the two sisters. We thank God all went well.
All glory to God for the good remarks we received from different people concerning this occasion, which was always simple, precise and welcoming.
It feels good to have two new sisters in the family because our number increases. It's a tremendous growth to see a tiny seed germinate in Kenya in the year 2000 and now the total number of sisters in the Kenyan Pro-Region has increased to 21. May we continue to thank God for this great gift and remain united in the spirit of God and blessed Mary Catherine Kasper.
Reported by Sr Polly communications office PHJC Kenya.